-Craftsmanship of the "Trinity" which HAYASHI TECHNO is proud of.-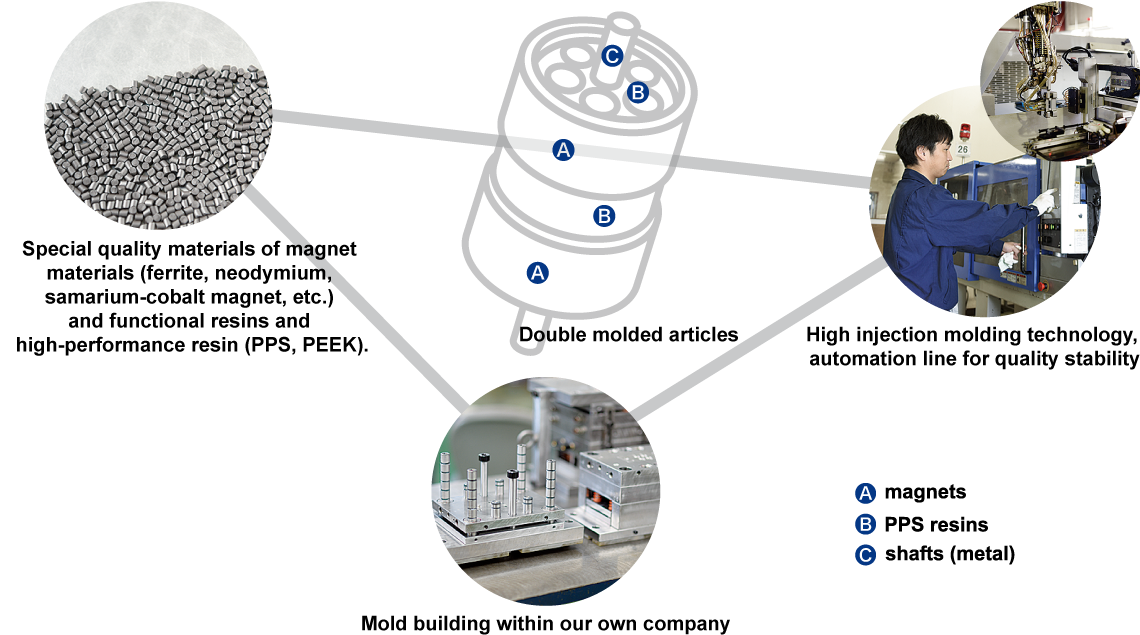 Magnetic field orientation technology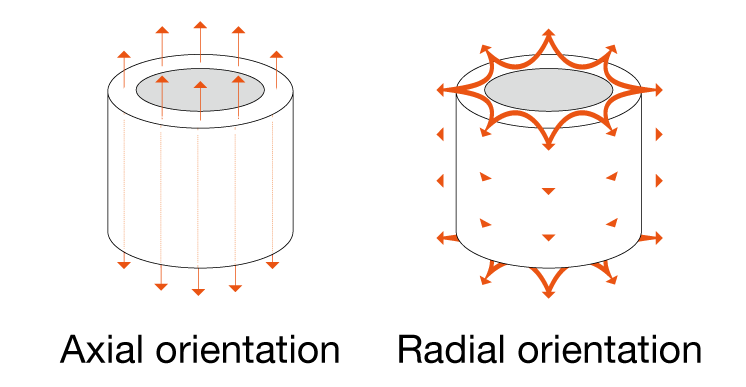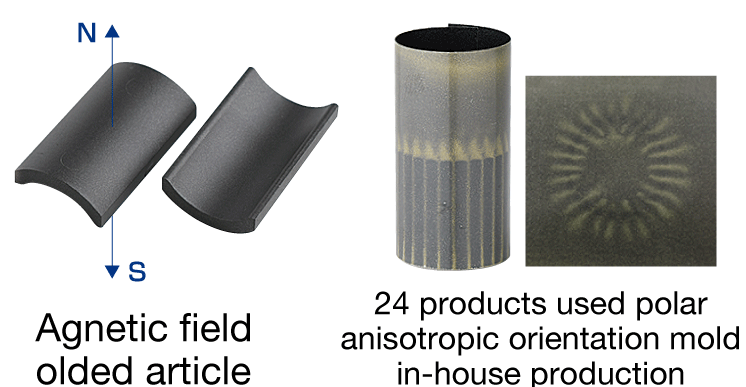 MOLD DESIGN
It is a department which takes charge of the period until it builds the drawing of
a molded item based on a customer's needs and can be put into commercial production.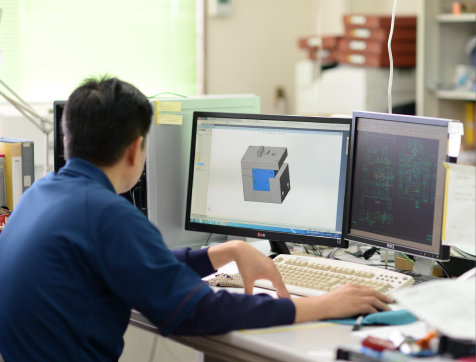 It is a department which takes charge of the period until it builds the drawing of a molded item based
on a customer's needs and can be put into commercial production.We receive a completed type drawing, and
we make, of course, as we are ordered, but "an aggressive sales style" we make a design and a proposal
within our company is our motto.We correctly grasp customer's needs in the detailed talks as what kind
unit a customer wants to make and what kind of molded article is necessary for that, and the drawing is
completed as it is paid attention to every detail.
We're good at forming a part with the relatively simple shape with a high degree of accuracy, so we will
seek for the best drawing together while also showing such advantage to a customer.Then, we have the
work section make the metallic mold of a trial product, and mass production will start after the
customer's satisfaction.
Mold making is usually requested from outside the company, but our company has a department of metallic
mold production in our company.Therefore, since detailed communication is taken, the visitor's needs can
be satisfied quickly. Although balance with cost, etc. must be taken into consideration, of course, what
we must not make a mistake is to think at first that "what does a customer expect?"
The concrete design is advanced using two-dimensional CAD and three dimensional CAD properly
METAL MOLDING
In-house-production is our big strength.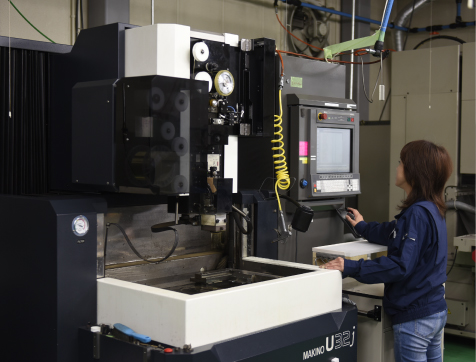 It is a generally outsourced portion, but our company has an independent metallic mold manufacture
section.By taking the smooth communication with the design section which creates a drawing and the
production section which actually makes a product, the time from design to a trial production and the
mass production can be made faster.Moreover, since the material used for a molded article is special,
such as a magnet, in many cases, original technology according to it is accumulated and improved.
Two or more "metallic mold craftsmen" make full use of a variety of machine tools respectively, and
complete one metallic mold as technical concentration.Although it is on a case-by-case basis, of course,
by the time one kind of metallic mold is completed and it can be produced on a mass-production basis,
the required period is about one month.It elaborates repeating correction of details about 4 or 5 times
depending on the case.
Of course it is a main premise to make precision highly along a drawing from a design
department.Furthermore, delicate ingenuity is put so that the difficulty of molding unique to the
special material can be covered with a metallic mold, or each craftsman pursues the original technology.
In any case, it is important whether they can concern for the machine to program to move it, and whether
they can be attentive for other posts including the production section.It is this section that can also
be said to be the lifeline of our company.
Measures for the constant technical improvement continue.
INJECTION MOLDING
For the most suitable "conditions"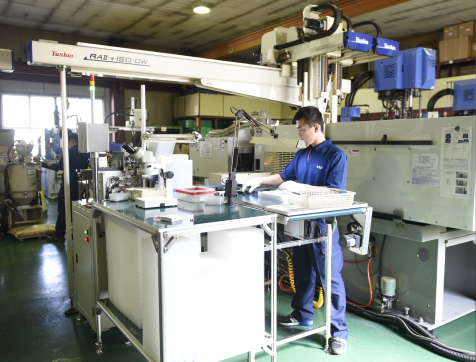 Even if we can make the metallic mold in-house which is our lifeline, it is insignificant when we do not
complete a real product precisely.
It is very important to repeat correctly and steadily the process of injecting material in a metallic
mold and cooling and molding.
Therefore, it becomes a key to calculating "molding conditions."
The special materials which are the greatest feature as our products limited such as material
temperature and tool temperature at the time of molding, and many of them are hard to handle.
However, by accumulation and share of the experience over many years, the best one can be promptly found
out of the innumerable molding conditions.For example whoever operates a machine, 1 or 2 products and
can be made, but technology of "finding conditions" is necessary to keep producing a highly precise
product without taking out a defect as few as possible at a factory of operation for 24
hours.Additionally, how a machine can be efficiently worked as without stopping on the way is also
pursued.
Although detailed things may depend on guesswork of a human being with abundant experience, they are
also told from seniors to a young people.
Since it is the worksite which actually carries out "craftsmanship," the scale of its post is about 20
persons as the biggest in our company.We keep making a product with 3 shift systems, and personal
teamwork as well as skill is also becoming important.
QUALITY CONTROL
A final process "Breakwater" before delivery of goods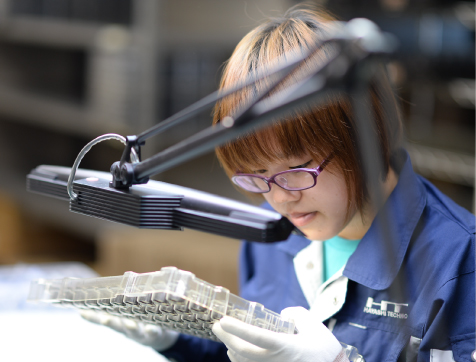 We frequently perform "quality patrol" that we extract a molded article and watch it whether a product
shipped does not have a malfunction.
We check the appearance or dimensions with various measures as possible in real time and feedback the
result in the spot of the injection molding.In our company, when using a special material called a
magnet, it is also necessary to check magnetic property.
Even if there are no defects in a product, and it passes smoothly in 5 and 10 years, when there is big
failure even once, it's just a moment we lose reliance.
It is necessary to keep that in mind, and take care so as not to collusion in the same company.Moreover,
since the environment which surrounds the manufacturing industry is changing quickly, it is also the
feature of this department we always have to develop to respond to any inquiry from customers.
For example, we respond to the various inquiries by whether the specific substance contains into the
material purchased and used from a maker, or whether the mineral is not used one mined from the
area-of-conflict belt.Unlike a few decades ago, we are now short in competitiveness only by making
merely products in comparison with a competitor.
As natural, it is important for high quality which can guarantee something extra.
USE
In-vehicle parts, the parts which control the temperature of
air-conditioner, buzzer, sensors, small motor, etc.
MAJOR FACILITIES
Injection machine
Horizontal type injection molding machine(hydraulic pressure operation)

JSW 50t

3 machines

Horizontal type injection molding machine (electrical operation)

JSW 20t – 100t

15 machines

Horizontal 2 grade molding machine(electrical operation)

TOYO130

1 machines

Horizontal magnetic field injection molding machine (electrical operation)

JSW 55t – 85t

3 machines

Vertical injection molding machine(hydraulic pressure operation)

JSW 40t

1 machines

Vertical injection molding machine(electrical rotary)

JSW 40t

2 machines

Vertical injection molding machine(electrical rotary)

JSW 100t

1 machines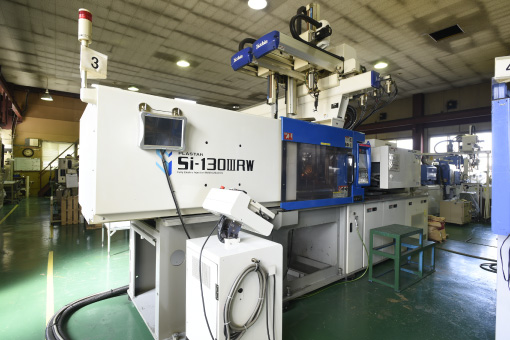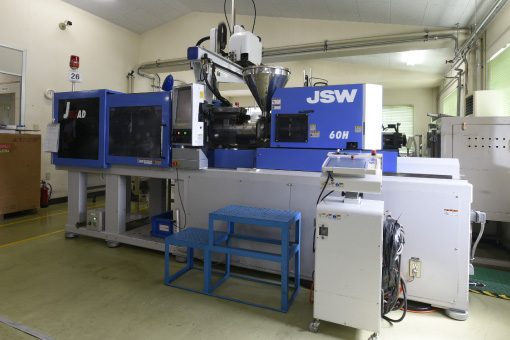 MACHINE TOOL
Surface grinding machine

OKAMOTO

2 machines

CNCsurface grinding machine

NAGASE

1 machine

CNC electrical discharge machine

MAKINO

1 machines

CNC Jig grinding machine

MITSUI SEIKI

1 machine

CNCwire-electrical discharge machine

MAKINO

2 machines

Machining Center

MAKINO

3 machines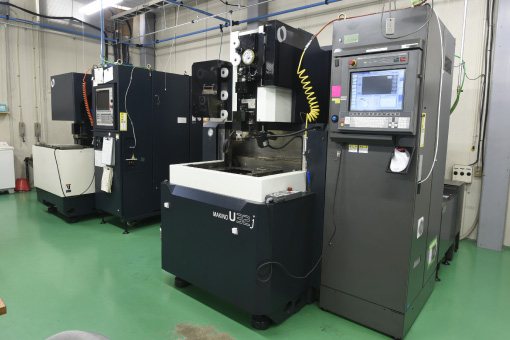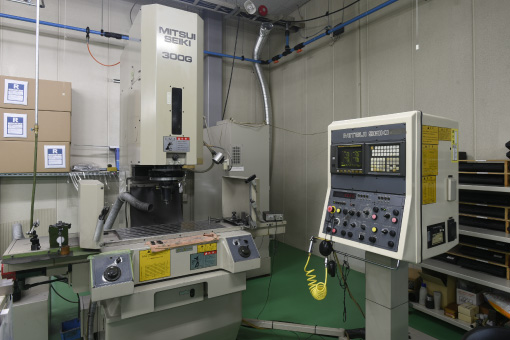 Magnetic force detachable machine
PC-1510DS and others

MAGNET LABO Co., Ltd. 2 machines

MZ-2510-313

D.M.T. Co., Ltd. made 1 machine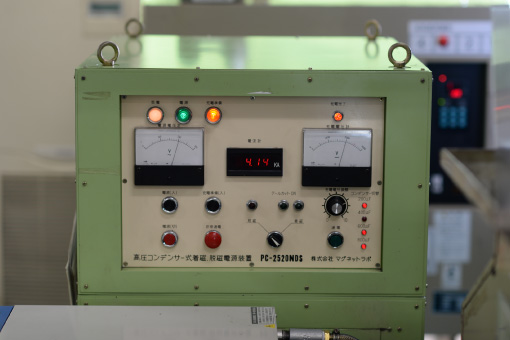 Measuring instrument
CNC three-dimensional measuring instrument CRYSTA-Apex

MITSUTOYO Co., Ltd.

TOKYO SEIMITSU roundness measuring instrument RONDCOM 400 MODEL

TOKYO SEIMITSU Co., LTD.

Magnet analyzer MA-8101

DENSHIKIKI INDUSTRY CO., LTD.
D.M.T. Co., LTD.

SHIMADZU testing instrument Autograph AG

SHIMADZU Co., Ltd.

Non-contact shape measuring instrument VH-Z100R

KEYENCE Co., Ltd.

Image Measurement Systems IM7000/7020

KEYENCE Co., Ltd.

Surface roughness tester

MITSUTOYO Co., Ltd.

3D shape measuring machine VR-5000/5200

KEYENCE Co., Ltd.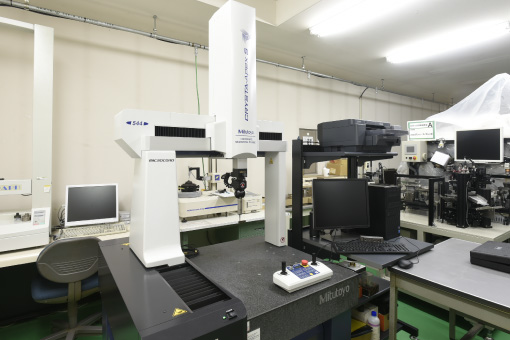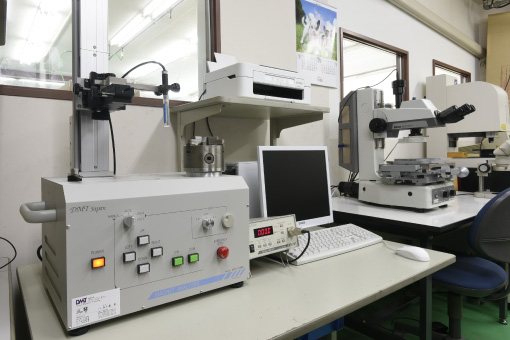 Main clients
Key customers:Aoyama Special Steel Co., Ltd. , FUJI KOKI
Co., Ltd. ,ACTUS Co., Ltd. , MATE Co., Ltd. ,NIHON PISCO Co., Ltd. ,TEEM Co., Ltd. ,NIPPON SEIKI
Co., Ltd. ,Fujitsu Micro-device Co., Ltd. ,MAGPROST Co., Ltd.
Main suppliers:YAMASO Co., Ltd. ,MATE Co., Ltd. ,NIKKO YKP Co., Ltd. ,MISUMI Co.,
Ltd. ,IIYAMA SEIKI Co., Ltd. ,MIKADO TECHNOS Co., Ltd. ,NPC Co., Ltd.
(※No particular order、titles omitted)